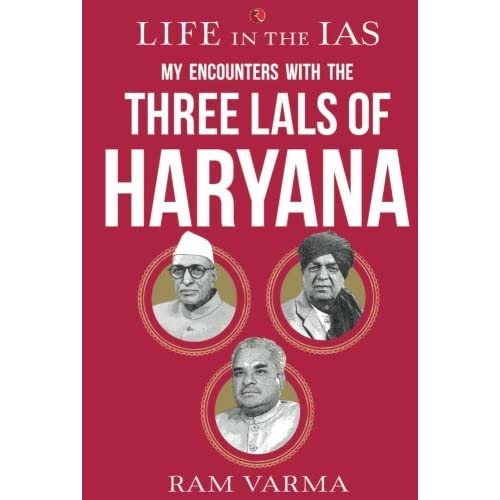 The book Life in the IAS – Three Lals of Haryana by Ram Sahai Varma sir, a retired 1964 batch IAS officer is a memoir of his glorious career in the prestigious service and more importantly presents an account of rise of the state of Haryana from the ashes like a Phoenix (as he writes himself). The state of Haryana was formed on 1st November, 1966 after separation from erstwhile state of Punjab, that included present Punjab, Haryana and some parts of Himachal Pradesh. As both Ram sir and Haryana start their journey together, the book tries to capture to both the journey's rather holistically. The books emphasises on the role of the three Lals of Haryana (Bansi Lal, Devi Lal and Bhajan Lal) in both these journeys.
This was the 2nd memoir that I read of a bureaucrat after Anil Swarup sir's Ethical Dilemmas of a Civil Servant, which I have reviewed here. So far I have been enjoying this genre.
Likes and Dislikes
What I like is that,
The history of Haryana is presented not as mere facts but as an immersive story. This gives you a feeling as if you are present in that very moment.
Chapters with Historical events precede chapters with personal events. So the book demands no prerequisite knowledge about Haryana.
The back story of the three Lals is presented in brief and doesn't overburden the reader with unnecessary information.
The language is simple and effective.
Personal experiences are presented bluntly even where one could think badly of Ram sir to provide all the facts. So the book doesn't force you to like the protagonist i.e sir himself.
What I didn't like was the bias towards a particular Lal is clearly visible and even gets reflected in the historical facts. Also, some of the incidents mentioned in the book felt morally wrong to me (like slapping a subordinate on the cheek or purchasing a car from state government quota).
My Verdict
Overall the book was an immersive read and quite informative. I liked Ram sir's way of narration and his overall journey. The book also helped me understand the present developments in my state by providing a historical context. I recommend this book for anyone who is interested in history of Haryana or reading about journey of a civil servant. You can purchase the book, here.